Overview
In Annunaki Genesis, there are two creatures that spawn naturally in the wild that can be tamed with their corresponding Annunaki Matrix Cube (unlocked at level 100). These two creatures are Primordius and Raphus. These celestials spawn at level 600 and both have their own attacks.
In order to tame the Celestials, the player must craft the corresponding cube available at the Annunaki Workbench. Each matrix requires 5 of each essence from the wardens and once acquired, it can be crafted at the workbench.
Celestials are Neutral creatures, meaning that they will not attack players unless attacked first, however, if a nearby Celestial, Warden or Pygmy is attacked, the Celestial in question will then become hostile to the player.
Primordius, the Celestial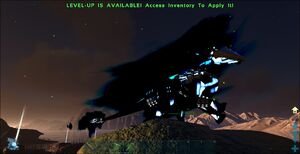 Primordius is a large blue dragon with metal details, similar to Tek Armor. It can be found mostly in Mountainous and Chilly regions, such as the Snow Biome and Blue Obelisk area of TheIsland and both Mountainous Snow areas of TheCenter.
Attacks
Primoridus has 3 different attacks.
Melee (Primary Fire) - Simple attack that hits everything in front of Primordius
Fire (Secondary Fire) - Flames that hit everything in the direction it travels
Wing Flap (Default "c") - Primordius raises its' front feet and gathering its wings, releases a gust of wind
Taming
Taming Primordius may be tricky as he only lands on the ground for a few seconds before taking off again. To add on to that, he makes sudden turns which makes predicting where he will land a challenge. It is possible to grapple to Primodius which you could potentially use to tame it, although risky as it may aggro Primoridus. To tame, just have the Primordius Annunaki Matrix in your '0' slot and press 'e' when you get close enough.
Spawning
The Spawn code for Primordius is listed below:
admincheat SpawnDino "Blueprint'/Game/Mods/Genesis/Dinosaurs/Dragon/Annunaki/Annunaki/Dragon_Character_BP-A_GNS.Dragon_Character_BP-A_GNS'" 1 1 1 600
Please note that the "600" is the animal level, increasing/decreasing this number may affect the animals stats (taken into account before any other modification to the server or its' mods)
Raphus, the Celestial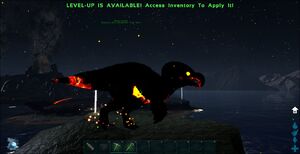 Raphus is a large, dark red and black DodoRex with a large glowing "heart" in his body. He is marginally larger than a normal DodoRex but has similar abilities. Raphus can mostly be found around forests and areas with small rivers, such as the forest near the Red Obelisk in TheIsland and small forests dotted around TheCenter.
Attacks
Raphus has 3 attacks.
Melee (Primary Fire) - Simple attack that hits everything in front of Raphus
Fire (Secondary Fire) - Flames that hits everything near Raphus
Flaming Meteor (Default "c") - A ranged attack that will deal impact and over time damage to targets affected.
Taming
Raphus is tamed in the same way as Primordius. You must have the Raphus Annunaki Matrix in your '0' slot and walk up to it and press 'e' to tame it, but unlike Primordius, Raphus does not move as much.
Spawning
The Spawn code for Raphus is listed below:
admincheat SpawnDino "Blueprint'/Game/Mods/Genesis/Dinosaurs/DodoRex/Annunaki/DodoRex_Character_BP-A_GNS.DodoRex_Character_BP-A_GNS'" 1 1 1 600
Please note that the "600" is the animal level, increasing/decreasing this number may affect the animals stats (taken into account before any other modification to the server or its' mods)